JIEM India Pvt. Ltd. acquires a majority stake in boutique Information Technology Outsourcing Services firm "SmartCloud"
July 17, 2020
EduLab, Inc.
JIEM India Private Limited (Location: Pune, India; CEO: Clark Lester Bautista; hereinafter "JMIN"), a subsidiary of educational service provider EduLab, Inc. (Location: Shibuya-ku, Tokyo; President and CEO: Junichi Takamura; hereinafter "EduLab"), completed a majority acquisition of boutique information technology services firm SmartCloud Infofusion Pvt. Ltd. (hereinafter SmartCloud) in Pune, India.
Background
One of the reasons EduLab established JMIN back in 2012 was to explore the Information Technology and Business Process Management (IT-BPM) Outsourcing industry, a trend that started as a phenomenon in the late 90s and early 2000s. With the IT-BPM Outsourcing industry's popularity and proven cost-savings concept, EduLab took advantage of this and established JMIN as an offshore center in India for its internal Software development and maintenance support needs.
As EduLab and JMIN adapted to and perfected the outsourcing model, EduLab further explored growth strategies in 2019 within the IT-BPM Industry. The first strategy is to expand JMIN resources and its capability to absorb more internal Software Development requirements of EduLab (and thus effectively increase cost savings and operational efficiency for the company). Second, EduLab also looked at expanding its capability of JMIN not just as a cost center but also as a profit center by providing IT-BPM Outsourcing services to non-internal clients. This paved way for the acquisition of SmartCloud.
Latest Trend in Global Technology and Impact to IT-BPM
The current trend that businesses pay close attention to is all about automation, artificial intelligence (AI) and machine learning (ML). Over the past 4-5 years, companies globally, EduLab included, are heavily interested and have made significant investments in this space (click here to learn more). And rightly so, it is a consensus across all business verticals that in some way or form, AI/ML is the next-generation technology that will help shape our future and how businesses are run.
One could argue that the IT-BPM Outsourcing industry twenty years ago was at a very similar stage as where AI/ML is today. The VOIP or Voice Over Internet Protocol, one of the cutting-edge technologies at that time, helped establish the IT-BPM Outsourcing industry to what it is today. According to a report presented by NASSCOM (India's IT-BPM Association) last February 2016, it is estimated that the global IT-BPM Outsourcing industry market size will reach US$255 billion by end of 2020.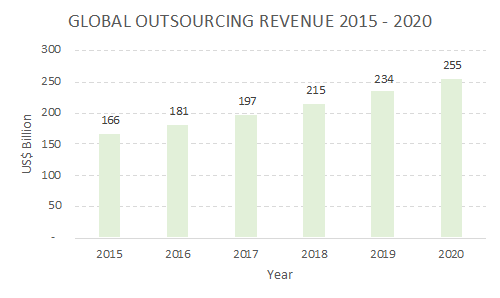 EduLab believes that this current trend and development of the AI/ML directly impacts the IT-BPM industry. An example of this is automating low-end IT-BPM services such as data entry. This means that in the near future, AI/ML software will eventually replace a large portion of such type of workforce and the demand will instead be for highly skilled resources to provide maintenance and support for the AI/ML software.
The chart below provides a picture of how EduLab analyzes the current relationship/ trend between AI/ML and Outsourcing.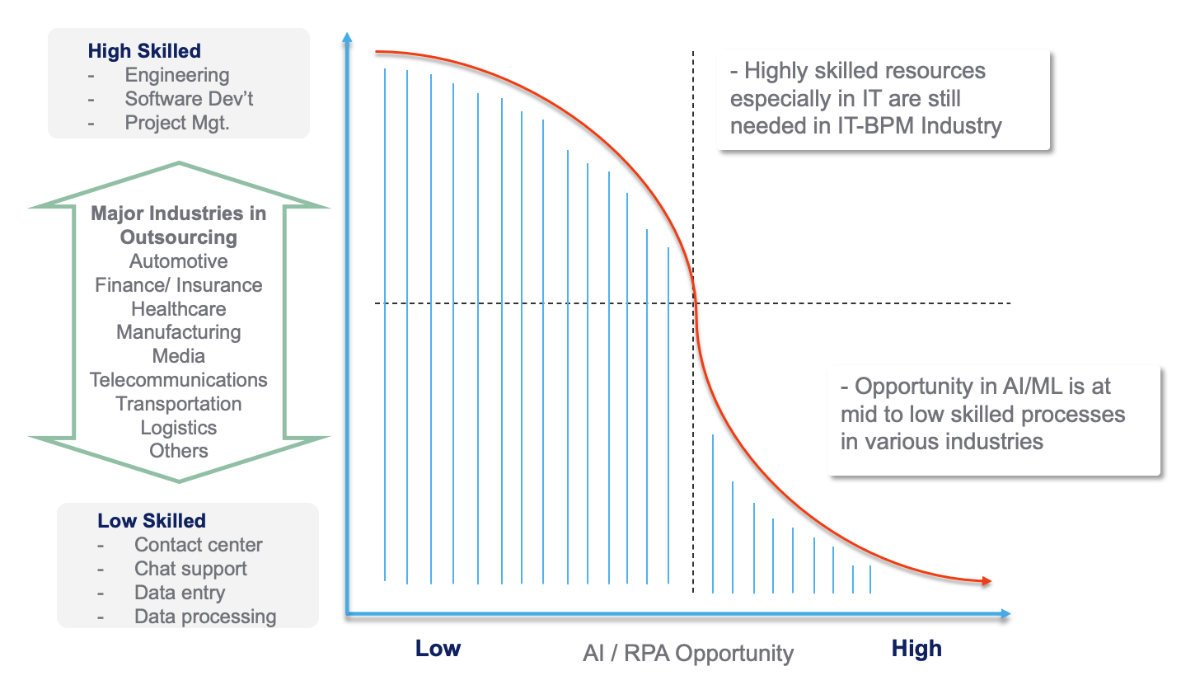 This trend further validates EduLab's growth strategy since there will be a shift in the demand for IT-BPM resources. With the acquisition of SmartCloud, this will allow JMIN to fulfill any requirements in AI/ML support needed by EduLab as well as possible external clients.
Growth Strategy Ahead
The acquisition discussions between JMIN and SmartCloud started mid-2019 and after going through proper due diligence, EduLab and JMIN approved the acquisition of SmartCloud last February 2020 and completed the acquisition by end of May 2020. With the Covid-19 and its effect on businesses around the world, companies are already experiencing probable slow-down of the global economy. However, EduLab believes that the IT-BPM Outsourcing Industry will weather this storm similar to how it endured the 2007-2008 global financial crisis. The acquisition of SmartCloud will allow EduLab to focus on the following three areas:
1. Leverage the current SmartCloud resources to further capitalize on efficiency and cost savings structure of the business outsourcing model between JMIN and EduLab
2. Expand JMIN's business by taking in external clients in the IT outsourcing industry (and gradually shift to not only being a cost-center but also a profit-center for EduLab)
3. As a long-term strategy, provide AI/ML development and support services for both internal and external clients alike.
SmartCloud and Founder Background
SmartCloud Infofusion Pvt. Ltd. was established in 2015 as a boutique IT-enabled outsourcing service provider. SmartCloud's expertise over the past 5 years has been geared towards software product development which includes work done within the AI/ML space. The company has worked with more than 50 clients ranging from start-ups to Fortune 500 companies and the client base is approximately 80% global (US, Europe, Japan, APAC) and 20% local in India.
Aside from completing more than 100 projects (end-to-end software development in both web and mobile), SmartCloud has also been a vendor partner of JMIN over the last 3 years where SmartCloud has provided JMIN immediate resources whenever needed to ramp-up our team on the ground for services required by EduLab. In fact, SmartCloud team greatly contributed to the development of the recently launched OneUp Adaptive Test web and mobile application solution in India as a vendor partner.
Gajanan Sakhare is one of the founders of SmartCloud and will remain with SmartCloud after this acquisition. With guidance from JMIN directors, Gajanan will assume the position as Board of Director and CEO for SmartCloud to drive the company's growth plan. Before starting SmartCloud, Gajanan started his career as a software engineer and business analyst as an onsite resource for IBM and CISCO projects in the US from 2000-2005. From this point, he went back to his roots in India and honed his skills more as a consultant/ business manager by leading entire SW development business units particularly for GlobalLogic and later on Electronic Arts Sports India. His first venture as an entrepreneur was in 2011 where he built an IT product company and successfully exited in 2014 before starting SmartCloud.
(Gajanan has a degree in computer science and engineering in Government College of Engineering, Pune as well as a Ph.D. in business administration and management from Nagpur University, India. Aside from this, he was also certified in 2008 as PMI Certified Project Management Professional)

About EduLab, Inc.
Based on the latest learning science, EduLab develops educational solutions for the next generation. Its business activities include the development of and investment in new businesses in the field of Edtech (education and technology), the provision of educational IT solutions and platforms, support for next-generation education, and school management. The company is based in Tokyo and has a global platform with offices in Seattle, Boston, Singapore, Hong Kong, Beijing, Shanghai, Bangalore, and Pune.
About JMIN (JIEM India Private Limited)
JIEM India Private Limited is a wholly-owned subsidiary of EduLab, Inc., which provides software development and maintenance services for the EduLab group as well as providing assessments and test operation services in the Indian market.
---
Inquiry
EduLab, Inc.
Corporate Communications: Niwa
Tel: 03-6625-7709
Email: pr@edulab-inc.com