OneUp, an Online Adaptive Test service launched in India for K-12 math and science
May 29, 2020
EduLab, Inc.
JIEM India Private Limited (Location: Pune, India; CEO: Clark Lester Bautista; hereinafter "JMIN"), a subsidiary of educational service provider EduLab, Inc. (Location: Shibuya-ku, Tokyo; President and CEO: Junichi Takamura; hereinafter "EduLab"), has launched a web and mobile-based adaptive test platform. This first release offers Science and Math tests for K-12 market in India.
Background
Having the second largest population in the world with 1.3 billion people, India's K-12 market currently has about 1.5 million schools and more than 260 million students enrolled. This translates to an annual revenue of more than US$70 billion for the K-12 market (approximately 50% out of the total US$140 billion Indian educations market). According to a 2016 KPMG report, the EdTech Industry in India, on the other hand, could well reach US$1.96 billion by 2021 from US$247 million in 2016. This is due to schools shifting from traditional learning to a more holistic approach combining classroom teaching with e-learning. This shift is also supported by the trend in the country's internet penetration rate – from 4.4% in 2007, it stands at 34.4% in 2017 – which shows that India as a country is moving to the digital economy, and the EdTech industry is not far behind.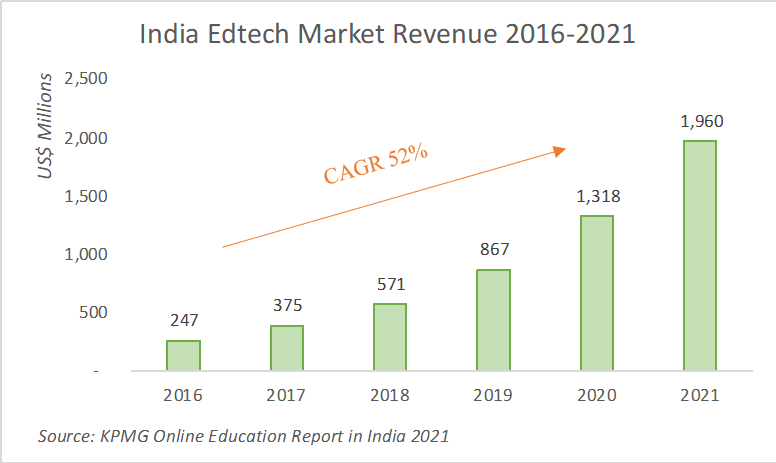 There was a lot of anticipation about the growth and potential of the Indian EdTech industry within the next 3-5 years. However, no one anticipated the immediate effect of the Covid-19 pandemic and how it pushed the EdTech industry to react immediately to address the needs of the K-12 market.
Although JMIN developed OneUp Adaptive Test (OAT) specifically to target the emerging EdTech industry in India (which aims to provide an alternative to paper-based testing), the solution is currently seen as a product to address immediate and long-term needs of schools and how it operates due to the Covid-19 pandemic.
Overview
The education industry is now forced to implement immediate changes that would adapt E-Learning within the ecosystem of a students' curriculum within the next school year. In India, all schools are closed and will remain closed until August 2020 – moved from the original opening date of June. This provides the government and schools much needed time to adapt and plan on what to implement as the new normal for schools, teachers, and students since the new norm might be a mix of 30% offline and 70% online learning.
OneUp Adaptive Test is an assessment platform that can be used online anywhere either through a computer (web) or downloaded as an app from IOS or Android. This allows students not only to take the test with a computer but also to be able to use a smartphone to take the test. OAT uses a simple algorithm that adapts subsequent questions based on the examinee's previous answers. It currently offers assessments for grades 3-12 students for Math and Science subjects where each test subject takes about 30-40 minutes.
Product Details
With the launch of the OneUp Adaptive Test, we've now started to reach out to schools and organizations in India to provide for them a solution as we move to the new normal in learning. OAT's main feature is it's adaptive assessment component as it provides a detailed report for students' weak and strong points in the math and science subjects. In addition, our questions are also mapped on the blooms taxonomy framework. Hence, the OAT generates a report which identifies the skill level of the student in blooms taxonomy accordingly.
Sample test report as seen below: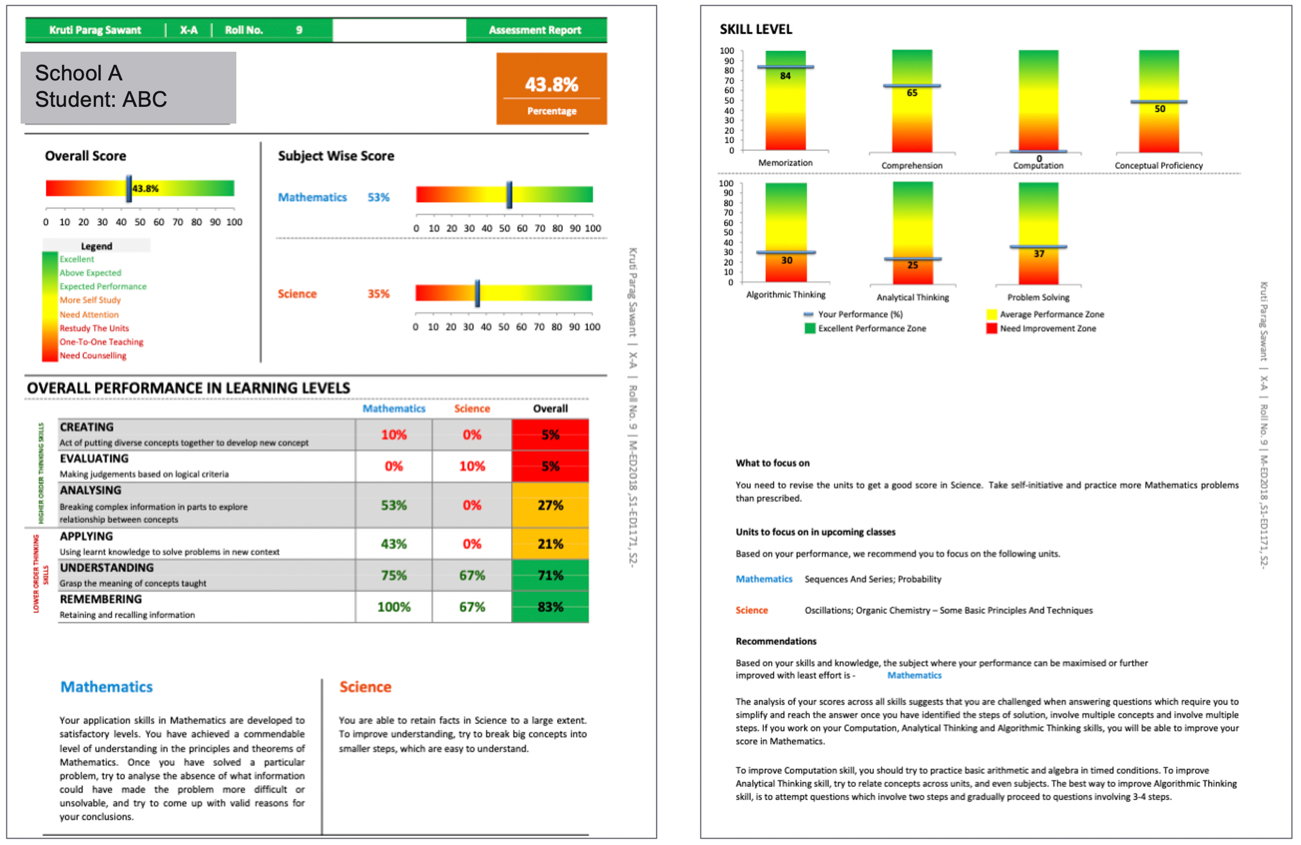 Another unique feature of the product is a section called "MyStudy" where students will have video contents to watch based on their inidivdual weak points identified by their test results. For example, if a student gets his result and it shows he is weak in physics, particularly the push and pull factor, OAT will provide recommended video contents for the student to watch and better understand more about the topic.
Below are sample screenshots from our OneUp Mobile App test and also those from the resulting "MyStudy" section.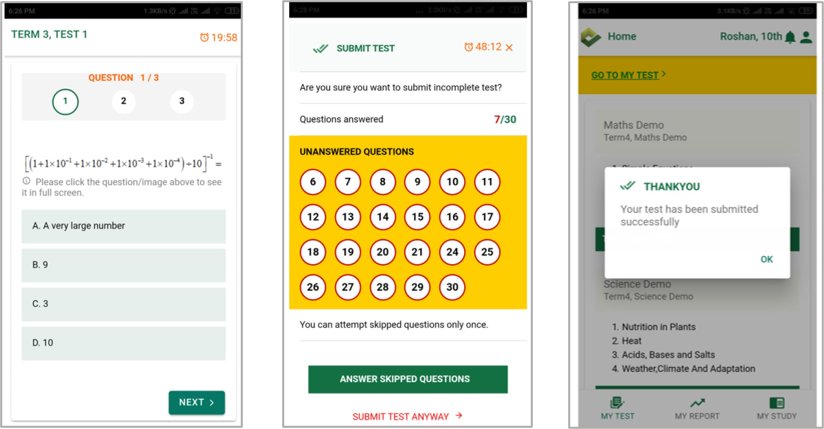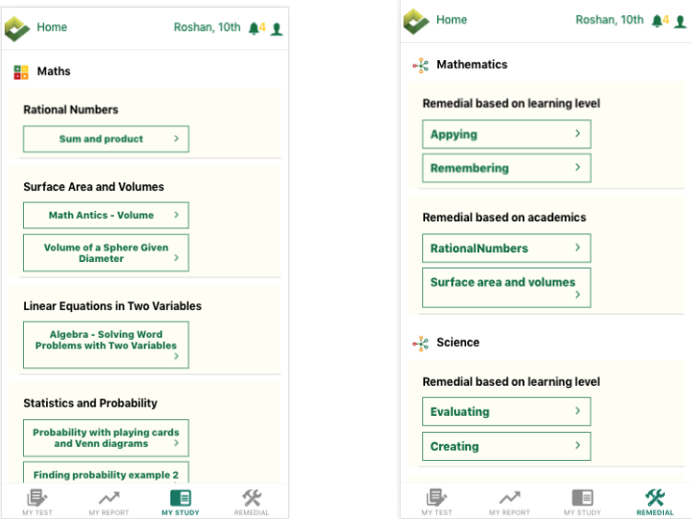 Currently, OneUp Adaptive Test is in its first release and JMIN plans to continue developing and releasing new features in the near future, adopting our customers' feedback. JMIN likewise intends to provide OneUp as an assessment platform for customers outside of India soon. To learn more about the product, please visit https://oneuptest.com/
About EduLab, Inc.
Based on the latest learning science, EduLab develops educational solutions for the next generation. Its business activities include the development of and investment in new businesses in the field of Edtech (education and technology), the provision of educational IT solutions and platforms, support for next-generation education, and school management. The company is based in Tokyo and has a global platform with offices in Seattle, Boston, Singapore, Hong Kong, Beijing, Shanghai,  and Pune.
About JMIN (JIEM India Private Limited)
JIEM India Private Limited is a wholly-owned subsidiary of Edulab, Inc., which provides software development and maintenance services for the Edulab group as well as providing assessments and test operation services in the Indian market.
---
Inquiry
EduLab, Inc.
Corporate Communications: Niwa
Tel: 03-6625-7709
Email: pr@edulab-inc.com